---

EN: EARTH NETWORK: © Copyright 2018, by: EN: All Rights Reserved.
What Are Thoughts & Consciousness Made of? 
Are Conscious Mind & Physical Matter Electromagnetic Energy?
Are Thoughts Electromagnetic Energy?
---
What is consciousness?
The scientific establishment tends not to investigate, but instead leaves this question to philosophers. This allows them to stick with the established definition. What is that established official definition?
The accepted view of consciousness is derived largely from Darwin. Consciousness has come into disrepute since Darwin suggested it was a throw-off product of the brain. The comparison being steam from a steam engine. The steam doesn't tell us much about the steam engine.
For over a century mainstream academia has accepted Charles Darwin's notion of consciousness. In his view, mind "emerges" from previously "mindless" matter when an organism achieves a certain level of evolutionary complexity. Man's brain, being sufficiently complex, produces consciousness.
Before the time of Darwin, the word "consciousness" referred to a God-like undefinable substance that extended to the ends of the universe.
The scientific establishment (and billions of people who look to the scientific elite to understand reality) are stuck with Darwin's view even though quantum mechanics makes Darwin's view look like a joke. Besides the work of quantum physicists, and despite the closed-minded elements of the scientific establishment, there have still been some investigations done that contradict Darwin's view:
The work of Robert Jahn of Princeton.
Neuroscientists have also recently discovered that the brain is a multidimensional receiver.
Contrary to the steam from a steam engine analogy, consciousness is an electromagnetic field (as are photons and electrons).
Consciousness Is an Electromagnetic Field
The majority in the official scientific establishment are very uncomfortable with any study that suggests consciousness is anything more than what poor Darwin imagined. This is because theories that suggest consciousness is significant threaten to undermine the false materialistic paradigm of contemporary scientific myth. The whole house of cards could then come tumbling down.
The Zero Point Field
Zero Point Field energy is consciousness emerging as matter. Virtual particles appear mysteriously out of an unknown dimension.
What Does the ZERO POINT FIELD tell us?
The Myth Of a Mechanical Universe is Tied to Darwinism
The  older scientific community insists we are products of a savage evolution in which the better killer survived. Our mechanical brains produce consciousness as a mere consequence of a base evolution. In this definition of consciousness, feelings of awareness, meaning and love are degraded. Consciousness is seen as a happenstance product of  an aggressive and competitive drive to survive at the expense of others.
As this older view becomes less popular, a new and more exciting prospect is on the horizon. Increasingly, as individual physicists and scientists internalize the findings of quantum physics, they realize the two paradigms cannot coexist. Either it is quantum physics, or it is the mechanical view, and quantum physics is far more credible than the older paradigm.
Relativity has shown us that time and space are not absolutes. Einstein calls time into question, and without time there can be no process of evolution.
Click above.
The actual facts
There is no real difference between consciousness and matter. Consciousness and physical matter are both electromagnetic fields.
The universe is constructed of electromagnetic fields. What we think of as being a particle is just an excitation of a field, like a wave in an ocean.
When/how Darwin's view of consciousness & mechanistic reality was initially contradicted
In his 1924 Ph.D. thesis and groundbreaking contributions to quantum theory, Nobel Prize winner, Louis de Broglie postulated the wave nature of electrons and suggested that all matter has wave properties. This concept is known as wave–particle duality, and it forms a central part of the theory of quantum mechanics.
De Broglie's wave–particle duality (which is extended to all particles and the laws of nature), establishes a foundation for a new evolving paradigm — the realization that the universe is not a physical entity but is instead entirely constructed of electromagnetic fields.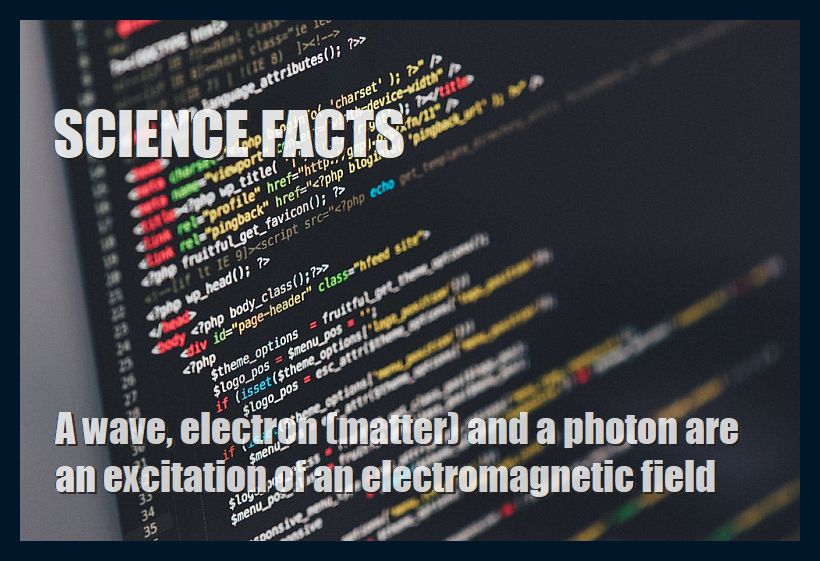 Click above.
What happened to the physical particle?
Darwin's matter no longer exists. There are no physical particles that form neurons that produce consciousness. The illusion of a physical particle is a result of human sense perception. We perceive things as being solid, when in fact they are fields of energy that are primarily empty space.
A wave, electron (matter) and a photon are an excitation of an electromagnetic field; thus, a wave, electron (matter) and photon are in essence an electromagnetic field. All three are different states of the same thing—the fundamental electromagnetic field—so, what is an electromagnetic field?
If you ask a scientist what an electromagnetic field is, they will say "it is a fundamental entity, it's not made of anything else, it just is what it is."
Click on the link below for the official scientific position that that the scientific establishment does not believe it is necessary to know what an electromagnetic field is, that it is not the business of science to know, but the domain of philosophers.
Science Does Not Know What Fields Are
The scientific establishment does not know what the unitary substance that forms everything in the universe is! this is the same scientific establishment that wants the public to think it knows everything.
If you ask a scientist what consciousness is, they do not know that either.
Click on '2' to continue reading article.