---

EN
"Your thoughts can and do create matter,"
says William Eastwood, who worked with a Yale University professor at a private research facility at age 13.
CONSCIOUSNESS CREATES MATTER: Scientific Proof & Facts: Thoughts Create Matter
Is it possible that thoughts create matter?
---
Do thoughts create matter and is it possible that everything we have been taught is a mistake — is false? As profound of a question as that is, it is a question many are asking, including scientists.
If you do not already know the answer to that question, find out for yourself if thoughts create matter. Look at the science (scroll down) and test the principles in your own life. We already know the answer (scroll down).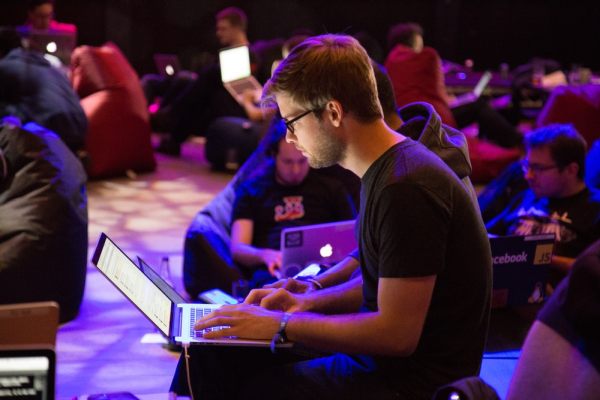 Can and do your thoughts actually create matter?
---
We have built a civilization on the division between mind and matter. Could we be wrong in having done that?  What if consciousness and matter were both composed of the same fundamental substance?
Max Tegmark moves us in that direction.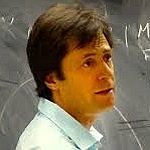 Max Tegmark of MIT" says consciousness is a state of matter.
CONSCIOUSNESS IS A STATE OF MATTER: MIT
Max Plank comes right out and says that consciousness creates matter.
Max Plank,

Noble Prize winner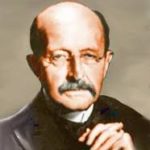 Max Planck, father of quantum mechanics says, "I regard matter as a derivative from consciousness."
— The Observer, 1931.
NOVA CPTV: Matter is a State of Consciousness
YOUR THOUGHTS CAN AND DO CREATE MATTER: From advanced science to practical application
---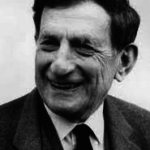 Physicist David Bohm, — who Albert Einstein called "a kindred spirit," and who's Ph.D. thesis (being top secret and classified) was awarded at the University of California at Berkeley by no other than Robert Oppenheimer — tells us that everything is connected. We create our reality via holographic projection. Your thoughts can and do create your reality.
Learn the most advanced and practical application to create what you want in life on this site with the smartest people in the world.
"The unexamined life is not worth living.
If you want to be wrong then follow the masses." —
Socrates
.
The world's prominent physicists
---
An explanation of how consciousness creates matter is inherent in wave-particle duality.
The concept of an alive universe, a universe entirely composed of consciousness, is supported by the greatest scientific discovery of all time.

In his 1924 Ph.D. thesis and groundbreaking contributions to quantum theory, Nobel Prize winner, Louis de Broglie postulated the wave nature of electrons and suggested that all matter has wave properties.
This concept is known as wave–particle duality, and forms a central part of the theory of quantum mechanics.
De Broglie's wave–particle duality is extended to all particles and the laws of nature. This tells us that everything has a wave aspect.  
Which comes first, the wave or the particle? What do you believe?
---
Does matter form the wave or does the wave form matter? In our opinion, it is pretty obvious what the answer is.
Your body's (cellular) motion does not create the idea to move.
As all acts are preceded by an intent, be it on a conscious or subconscious level, all actions which form events are a result of information within the wave. 

Even the components of cells which continually replace their parts, do so according to the intent of the subconscious body consciousness.

The complexity and order of your cells replacing their parts is not a haphazard, chance creation. In the same way, all matter is a result of the information that forms and composes the wave.
The entire body has a nonphysical form that creates the physical body. The subconscious energy of which the body is composed creates the physical body.
FIVE NOBEL PRIZE WINNER'S FINDINGS
De Broglie was awarded the Nobel Prize for Physics in 1929
---
His 1924 thesis (Research on the Theory of the Quanta) based on the work of Max Planck and Albert Einstein on light, resulted in the de Broglie hypothesis that any moving particle or object had an associated wave. De Broglie thus created a new field in physics, or wave mechanics, uniting the physics of energy (wave) and matter (particle).
De Broglie developed a causal explanation of wave mechanics, which was refined by David Bohm in the 1950s.
The theory has since been known as the De Broglie–Bohm theory. His theory was supported by Einstein, and confirmed by G P Thomson, Davisson, Germer and Schrödinger.
David Bohm gives us a model of reality that serves as a bridge to a new science. We provide that science.
In reality, nothing is solid
---
Physicists know that nothing is solid.
Solidity is a result of how our five senses react to non-solid energy.
If we can't pass through energy, we consider it solid, and so it functions as a solid in practical terms, but regardless of the fact that nothing is truly solid.
All physical matter is composed of fields of energy.

There is no duration to matter,

it is continually generated

in the same way light is when you turn a light switch on.

Conscious Energy Units (CEUs) form matter in the same way photons of light operate. Both travel at the speed of light.

Fields form matter.
What is quantum consciousness?
---
Reality is composed of non-solid fields of electrical energy. Waves are disturbances in those fields. Waves are the closest we get to particles, but truth be said, there are no particles because waves are just energy moving around. That energy, however, is filled with information.
The wave-aspect of anything in nature is an energy field that contains huge amounts of information.
What is a thought but an energy field containing information?
Everything is quantum consciousness. Thoughts create matter because matter is composed of consciousness.
The field comes first
The brain does not produce consciousness, consciousness creates the brain.

The brain is a receiver.

The past does not create the present, consciousness creates past, present and future simultaneously.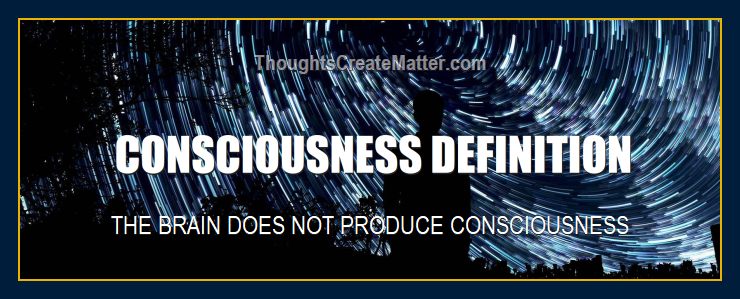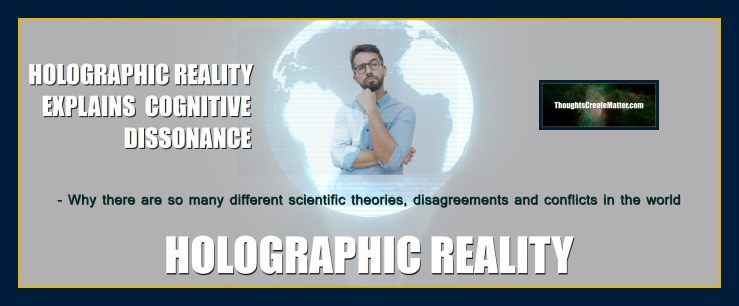 Do quantum physicists say that thoughts create matter?
---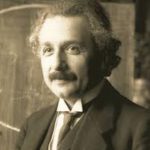 Many physicists do believe the universe is made up of or contains consciousness, but they do not usually professionally or publicly-announce it.
Most physicists stop short of publicly saying thoughts create matter and that consciousness is primary because saying so is a form of scientific heresy that invites attack from a prejudice majority.
Our institutions and legal system are also based on the old mechanistic paradigm. If it were true that thoughts create matter, that new premise would dismantle most accumulated knowledge in all fields.
Facts that point to the reality that thoughts create matter can be found in the placebo effect, in the collapsing wave function, the entire body of quantum mechanics,  the implications of Bell's theorem (reality is non-local), David Bohm's holographic reality, quantum tunneling psychology and more.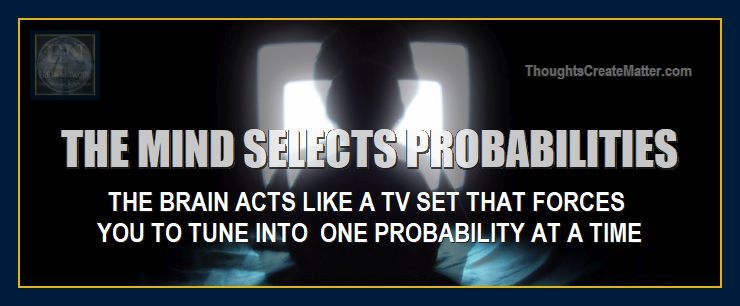 We know that quantum mechanics is correct because the mathematical algorithms are consistently relied upon in scientific applications and to build advanced scientific devices that work amazingly well.
Quantum physics is simply the study of life. It only seems strange because our civilization is unfamiliar with the psychological nature of existence and the laws of nonclassical physics that apply.
John Archibald Wheeler — who carried on with Einstein, Niels Bohr, Bohm and other greats — is the world's most prominent early physicist to suggest that the world may not be entirely physical. He tells us that everything is information, and that consciousness is fundamental to reality.
Congratulations, you've found the best place on the internet to acquire the most powerful and exceptionally rare knowledge to help you achieve your goals—and best of all, it's free
Physicist David Bohm, — who Albert Einstein called "a kindred spirit," and who's Ph.D. thesis (being top secret and classified) was awarded at the University of California at Berkeley by no other than Robert Oppenheimer — tells us that everything is connected and that each person's physical life is a holographic projection of the mind.
Eastwood discovered that the universe was a projection of the mind in the 1970's when he was only twelve years old. Eastwood began TESTING holographic reality principles in his youth, years before Bohm even published "Wholeness and the Implicate Order" in 1980.
David Bohm, says that all of reality is a single unbroken field of energy that exists in two states. Information in the inner implicate order, Bohm says, determines what manifests in the outer physical world or what he calls the explicate order.
According to Bohm, thoughts and matter are not different in any intrinsic way.  Consciousness is the information in the wave that determines what manifests, and we control the process.
The substrate that forms matter is consciousness. Our dominant beliefs, create our reality.
A philosophy that works like magic
---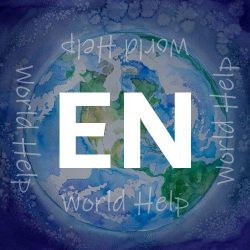 How did a thirteen-year-old kid manage to retain a Yale University professor's request to work on the design of a secret invention at a private research facility? …on his own without anyone helping him?
"It was because at age 12, I applied a simple principle," says William Eastwood.
What William Eastwood discovered in the 1970's in his youth, YEARS BEFORE Einstein's friend, David Bohm published "Wholeness and the Implicate Order" in the 1980s, was a secret about the universe.
"When the science came out," Eastwood adds, "I had already been testing it for over five years. By the time I was 22, I owned three large historic homes on the coast of Maine. If we apply the science and change our core beliefs in a specific way, we can achieve any goal, which my achievements early in life reveal. You can create anything you want LIKE MAGIC with this worldview."
Create anything you want LIKE MAGIC
---
Click on our affirmation page once or twice a day, or as time allows when it is convenient for you to do so. It is the best habit you can possibly develop if you want your life to work.
By taking a few seconds to read through affirmations, instantaneous connections are made to your best memories and most powerful experiences on a subconscious level. This allows for positive energy and ideas to enter your mind and find a way to change your state of mind, increase your enthusiasm, and motivate you and change your circumstances for the better. Just reading lists of affirmations daily can make a huge difference in your life, keeping you positive, strong, on-track to your goals, balanced and consistent. Most importantly, positive thoughts — focused on in specific ways — will manifest desirable changes in your life. I am providing you with a path to success like nothing you have ever experienced before.
Your life is a projection of the life-force within these inner levels of your being we reach with certain affirmations. This is living energy that does your will. This is not a frivolous activity, rather, it is the most logical and direct path to eliminating blocks and achieving your goals. In the same way that good food helps your body, these affirmations give your life itself substance and puts you on a positive track. It's how you create your reality, and in this case for the better.
If you follow my advice and apply these processes correctly, you absolutely will transform your life like magic.
45

45 years of research 
Over

100

free articles
Become powerful.
Create wealth.
Manifest your dreams.
The most generous advice.
The most experience.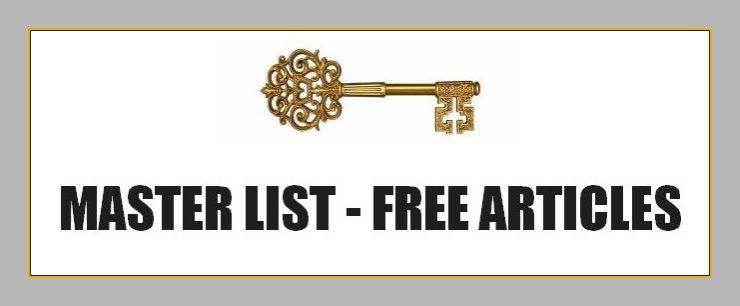 At age 12, William Eastwood said, "I can change the world," and he picked up a pencil.
Less than a year later, William's school counselor called Yale University.
At age 12, William Eastwood began a unique study that lasted for over 45 years, and everything he learned is now available to you in a format that will help you to achieve your goals.
Helping you to create the life you want.
FIVE SCIENTIFIC EDUCATIONAL SITES — ONE PHILOSOPHY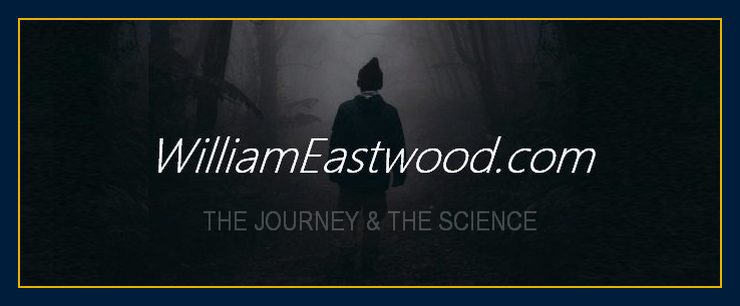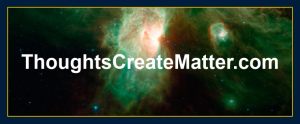 Eastwood discovered that the universe was a projection of the mind in the 1970's when he was only twelve years old.
Complete success is yours
I renew my practical advice every day.
On this site you are given important advice daily to help you get on and stay on your path to whatever you want in life.
I give you the most powerful free advice that enables you to achieve success with your business, personal life and in all areas.
Begin your journey of learning and success here.
If you want continued free learning and practical insights, click on the icons below.
The path to success is yours (click below).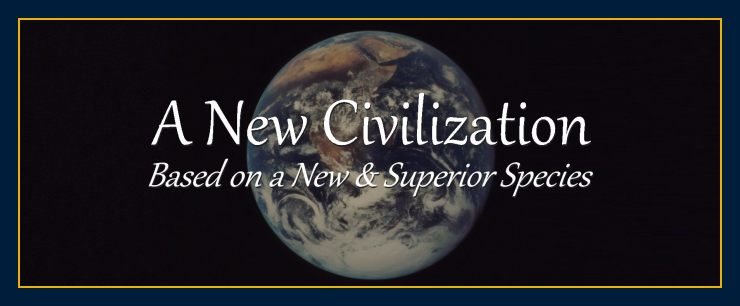 William Eastwood is a political oracle, music prodigy, self-made international philosopher, researcher and new scientist, an empath, visionary and founder of the altruistic movement, a civil rights, scientific, environmental and political activist, and an author of 20 books designed to lead humanity into a new era and to help individuals live their dreams and realize their full potential. William Eastwood is an activist helping to end global conflicts, working to stop war, address political issues, and educating to bring about a world without borders.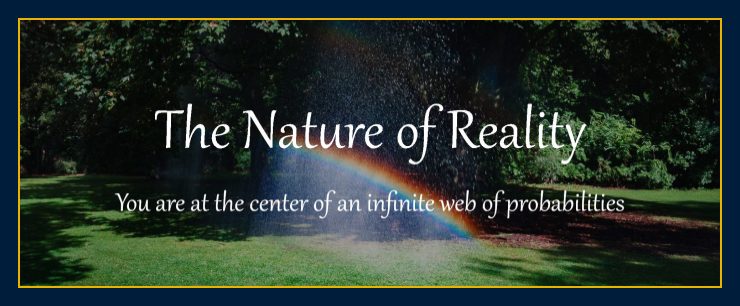 "Civilization must be based on a single accurate science in order to heal division and function properly." — William Eastwood
We are using that science for practical purposes.
"The unexamined life is not worth living. If you want to be wrong then follow the masses." — Socrates.
Highly practical instant magic
---
The practical magical power within you in this moment can be relied upon to change any situation, regardless of what it is or how boxed in you seem to be.
In simple terms, everything is energy. If your thoughts are positive they will manifest positive events. Joy, for example, can transform your life.

All time is simultaneous. Through emotional association we can activate cellular memory playback of times when we were young and in a spring rain in a natural garden paradise of our own making or whatever is most impactful to us. Our body's cellular past memory bank can bring the full reality of any such "past" moment into the present. This is because the past is still alive and real to the body consciousness which transcends time limitations.
Your power to create incredibly positive events immediately is within you right now in this moment. The beauty and power of the universe is at your mental fingertips. You can also activate cellular memory by means of willpower and dream recall.
To learn more, click on image below.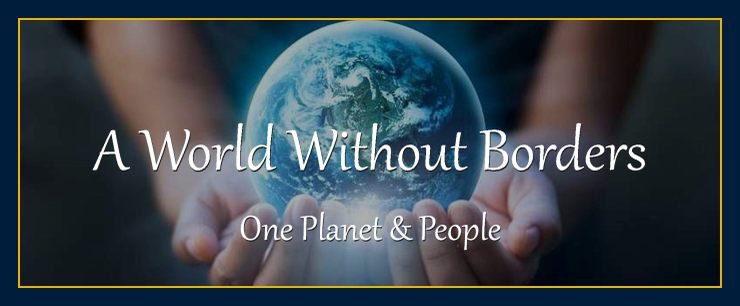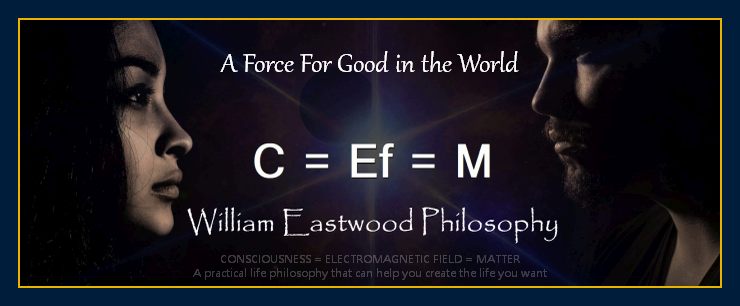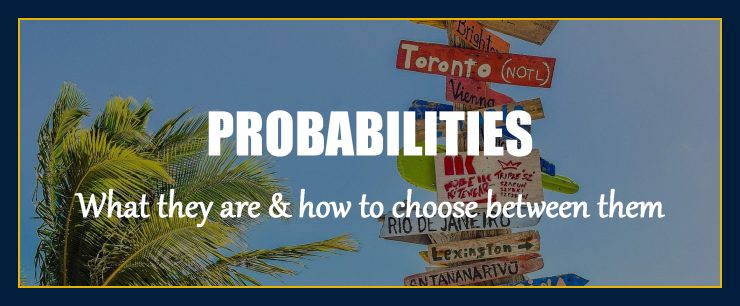 A philosophy that works like magic book store… 
Get all this information directly from the source — Earth Network books
45

EASTWOOD
45 years of research goes into every book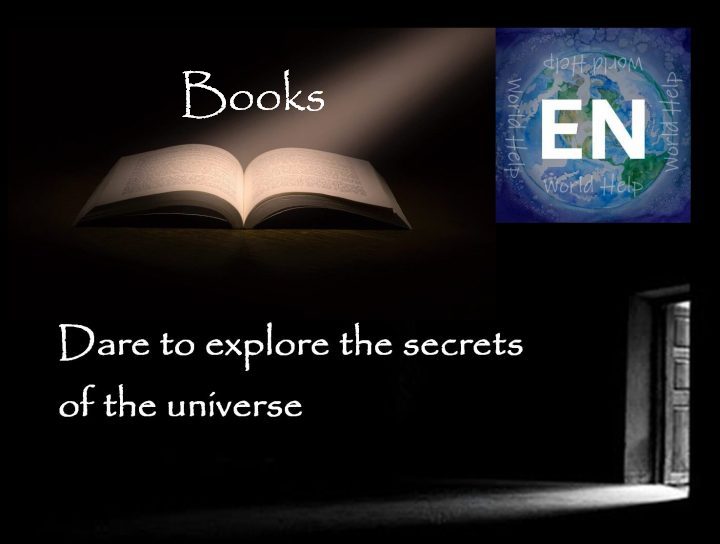 The purpose of Earth Network books and the free advice given here, is to provide you with all you need to know to be successful in all areas—in intellectual and spiritual knowledge, business, finance, health, love and relationships.
45

EASTWOOD
45 years of research goes into every book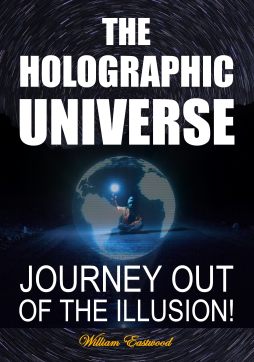 About eight billion people are living in an illusion cast by their own senses and they don't know it. Those who are fooled by the illusion are powerless to control their destiny. This book gives you the understanding necessary to change the projection and to become part of a new and superior species.
Scientists know that objects are not actually solid. So why do we perceive physical objects as being solid?
Make the evolutionary leap with a revolutionary book by William Eastwood that gives you an easy-to-understand guided journey out of the illusion.
The nature of reality by William Eastwood: The amazing truth about your soul, where you come from and the nature of the universe.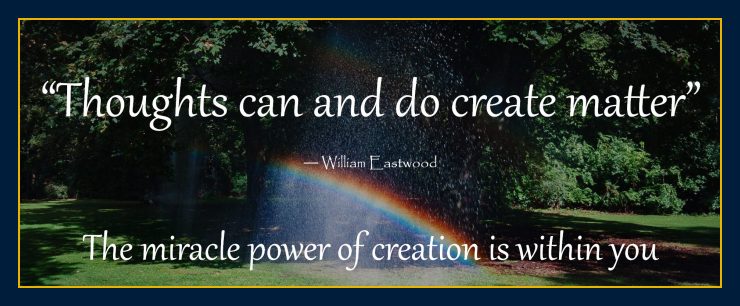 I recommend everyone read this article (below).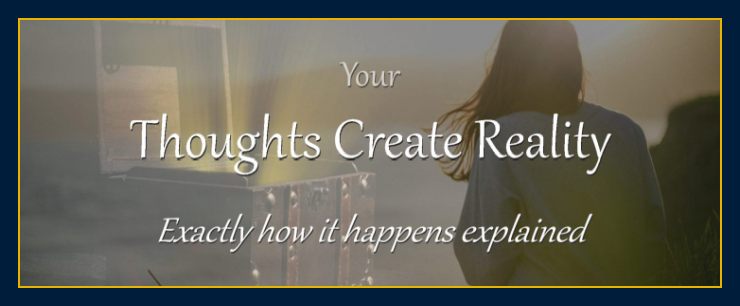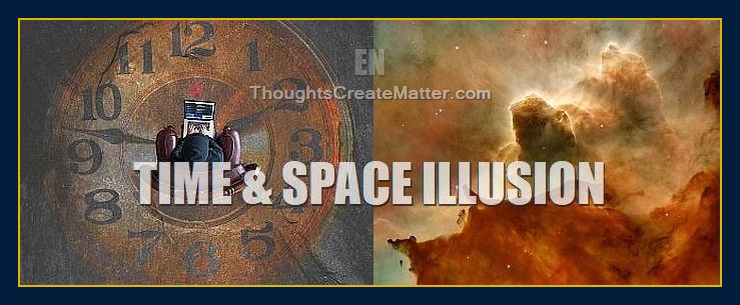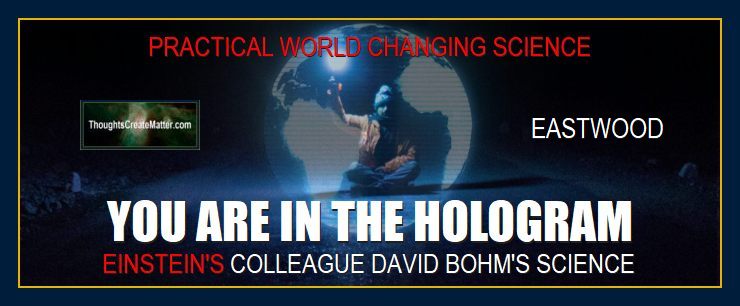 Multidimensional existence is no longer considered fantasy among many mainstream serious scientists, but very few have been able to apply the science, as for example, William Eastwood has done,
45

EASTWOOD
45 years of research goes into every book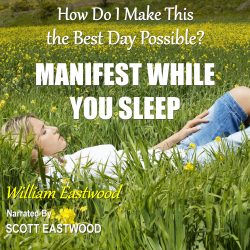 Short on time?
Get our Goal Delivery System!
And create anything you want LIKE MAGIC!
---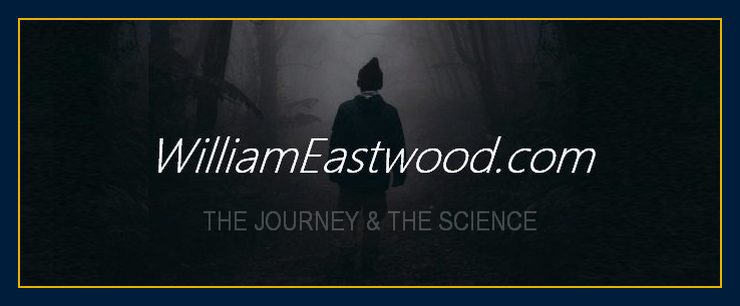 Eastwood offers an incredibly positive philosophy to help us create what we desire in life as well as solve global problems.
The information is provided in five free websites and twenty books.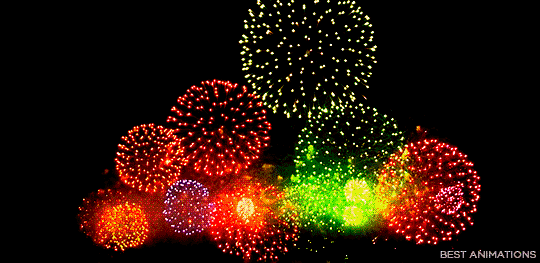 Can & Do Your Thoughts Create Matter?
Does the Mind Form Reality?
Copyright © 2019, 2020, 2021, 2022, By: William Eastwood
Primary article concludes here.
---
Categories: Can and do your thoughts create matter?, Your thoughts can and do create matter and reality, Quantum mechanics shows us that consciousness creates matter and your thoughts create your reality, Mind forms matter and reality, Thoughts create matter and mind forms reality.  Click on this site to learn more!
CONSCIOUSNESS CREATES MATTER: Scientific Proof & Facts:

Thoughts Create Matter
---
Where do the hundreds of TV programs go when your TV is turned off? They are everywhere. The earth is blanketed by radio and TV signals. By using a physical TV to select one signal you collapse the field or wave into a specific particle―a movie or your favorite program you then watch.
In the same way, the primary universe is just an infinite field of consciousness. Your brain is a receiver, picking up aspects of this field of consciousness and collapsing it into a body and physical matter.
Once you get to the point where you realize that your thoughts create matter, you are able to free yourself of all limitations.