Many top physicists do know that thoughts create matter and reality
---
Your thoughts can and do create matter. It is the rest of science, media and the world who do not want to listen to what they are saying.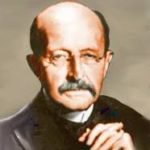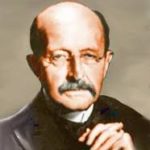 Max Planck, Nobel Prize Winning father of quantum mechanics says, "I regard matter as a derivative from consciousness." — The Observer, 1931.

William Eastwood says that everything is consciousness

Max Tegmark of MIT, says that consciousness is a state of matter.
---
In 1938, Einstein writes,
It seems as though we must use sometimes the one theory and sometimes the other, while at times we may use either. We are faced with a new kind of difficulty. We have two contradictory pictures of reality; separately neither of them fully explains the phenomena of light, but together they do.
— Albert Einstein, Leopold Infeld (1938). The Evolution of Physics: The Growth of Ideas from Early Concepts to Relativity and Quanta. Cambridge University Press.
If we extend Einstein's suggestion above to several sources of knowledge, we come to a new understanding of reality itself.  To make sense of the discoveries of David Bohm and other scientists we need to gather together everything they are saying and put it together in a new way to bring us to a new picture of reality that makes sense.
If we combine certain popular theories in quantum physics, they all point in the same direction.
Physicist David Bohm, — who Albert Einstein called "a kindred spirit," and who's Ph.D. thesis (being top secret and classified) was awarded at the University of California at Berkeley by no other than Robert Oppenheimer — tells us that everything is connected and that each person's physical life is a holographic projection of the mind.
Eastwood discovered that the universe was a projection of the mind in the 1970's when he was only twelve years old. Eastwood began TESTING holographic reality principles in his youth, years before Bohm even published "Wholeness and the Implicate Order" in 1980.
Why people see what they want to see, and create negative experiences
---
"Each person reads and experiences reality according to what they believe exists. If they hold a view of reality within themselves that is inherently limiting and/or negative, then this inner subjective reality and nothing else is projected outward into events and experiences so that everything conforms with their beliefs. They then cannot see anything outside of their own worldview. In effect, they become blind to any information that would free them from their inner and outer restricted reality.
"The negative focus on perceived enemies or opposition combined with the overlooked and unchecked power of consciousness and focus has been causing the world severe problems for a very long time only because we do not see the obvious.
"The solution is to understand that consciousness is altruistic.
"The people that seem evil don't believe that the human spirit is basically good, and that's the problem.
"My work is to explain that this is a scientifically validated fact in order to bring an end to global conflict and assist humanity in advancing into a new stage of incredible fulfillment, both private and public. That work begins with you.
"You can become a good or bad person in this life of yours — it is your choice.
"Yet, regardless of what you make of yourself in this life, your innermost soul is good. What you are at the deepest level IS good."
— William Eastwood
A philosophy with a heart and soul.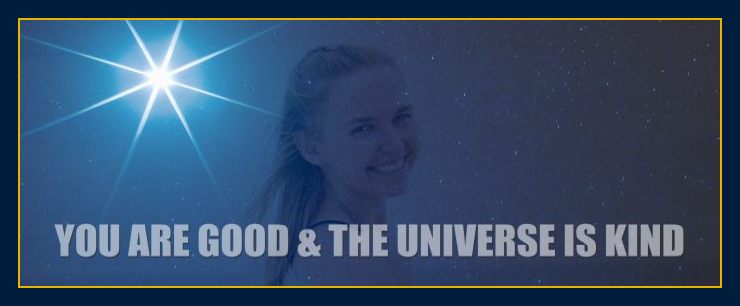 "The unexamined life is not worth living.
If you want to be wrong then follow the masses." —
Socrates.
A philosophy that WORKS LIKE MAGIC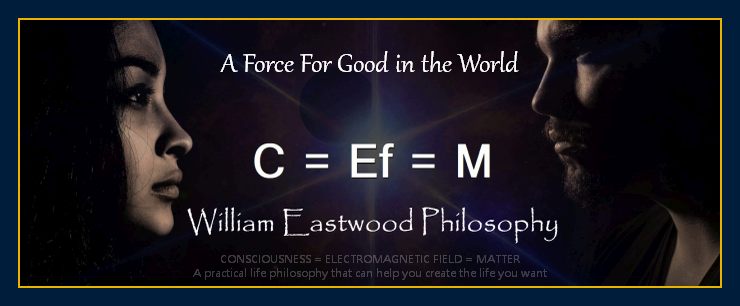 Each physicist's theory represents one important piece of the puzzle. If you combine them properly, they lead us to where we need to be. They lead us to a unique understanding of reality. It becomes crystal clear and obvious that your thoughts can and do create your reality.
---
You can get lost trying to understand consciousness by reading scientific articles. I offer links to some excellent scientific studies as a courtesy to you only. I know in simple terms that the physical world is a projection we each create with our own consciousness. If four people enter a room, there are four rooms. I figured that out over four decades ago.
Consciousness is irreducible and is both individualized and part of an unbroken field. Quantum mechanics is the study of that field of energy. Your consciousness has very deep, eternal meaning that cannot be measured with a ruler, and so all scientific studies will miss that part of the picture.
All consciousness is of an equal, amazingly high grade; and just so you know, your personality and individuality will never be lost. Who you are will survive death. I am not a religious person, because I will add that you are also good, and most religions will say you are evil.
Ignorance is separation from truth, and it is the closest thing there is to evil. Our civilization has been based on separation from truth for centuries and we therefore do not even know where we come from! That shows just how ignorant we are.
Our civilization has been reading reality backwards for thousands of years. You cannot understand reality by looking at the physical world because that world is a consciousness hologram that you are creating. If you follow most scientists, they will just get you more confused.
I provide hundreds of articles and over a dozen books in plain English, and you do not need to be a scientist to understand any of it. Use your heart and intuition. All knowledge is within you, and you are a portion of the Divine consciousness that forms everything. You are forever safe and loved, and this will never change, not for a billion years.
For those who are interested I often begin my articles with some science because it is important to use your intellect. For something to be true it must make sense to you both intellectually and intuitively.
— William Eastwood
Understanding will change the world as we know it. Either we accept new knowledge and thrive individually and collectively or we become overtaken by violence and other problems and spiral into our demise. Fortunately, we do have free will.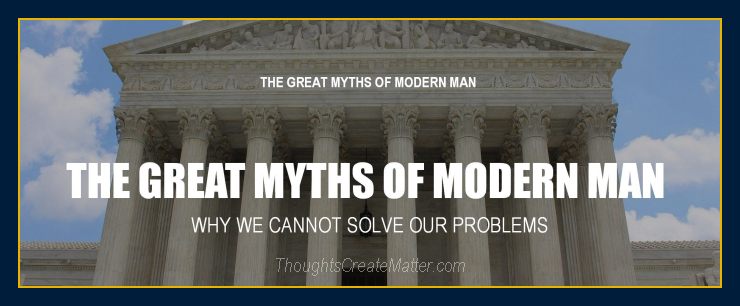 A philosophy that works like magic book store…